Services
The Center for Cadet Counseling offers free, confidential, individual counseling to help cadets address personal and interpersonal concerns or stressors. Our approach is collaborative, developmental, and strengths-based which means that we know cadets possess a variety of strengths, resources, and abilities when they arrive for assistance. Our goal is to help cadets capitalize on these strengths by developing new skills and insight to better navigate concerns in the future.
All counseling services are confidential which means that information cannot be shared with others without your written permission. There are legal exceptions to confidentiality which will be reviewed with you prior to receiving services (see Confidentiality and Privacy).
Counseling sessions are scheduled for approximately 45 minutes. During appointments, cadets work collaboratively with his or her counselor to identify and address primary concerns.
Counseling may help if you:
Feel unhappy or hopeless
Worry excessively or feel on edge
Have difficulty concentrating on schoolwork or other extracurricular activities
Experience changes in your appetite (weight gain or loss of appetite)
Have difficulty sleeping or falling asleep
Experience a loss of a loved one or traumatic breakup
Notice an increase in your alcohol, tobacco, or other drug use
Feel overwhelmed and find the demands of VMI to be unbearable
You have thoughts of harming yourself or others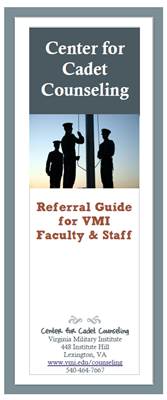 Staff at the Center for Cadet Counseling (CCC) are available for consultations with parents, faculty, staff, and cadets. During consultations, a counselor will explore your concerns, either in person or over the phone, and help you develop strategies to effectively manage or address your concerns. If the circumstances warrant, we can help you get connected with additional resources, either at the CCC or in the community.
If you are concerned about a member of the VMI community and wish to consult with the CCC, please contact us 540-464-7667.
Referral Guide for VMI Faculty
Referrals
Counselors are not typically the first point of contact when a cadet experiences problems. Cadets regularly interact with friends, academic advisors, faculty, and family members and they will naturally confide in those closest to them when they are having difficulties. As a result, these individuals are in an excellent position to provide information and assistance to cadets in distress, and also to refer cadets to professional counseling when they appear to have more serious concerns.
Faculty might find this resource helpful: "Recognizing Students in Distress Faculty Handbook".
Virginia health insurance plans offer behavioral health services to employees through the Employee Assistance Program (EAP). VMI employees may receive up to four, free counseling sessions with a behavioral health provider approved through Anthem.
Before receiving services, you must receive prior authorization through the EAP program. The EAP specialist will assess your concerns and arrange for a community referral.
For more information, contact Anthem Behavioral Health/EAP at 1-855-223-9277.
Limited psychological testing is available to help counselors develop a comprehensive understanding of your concerns. All testing is done in collaboration with cadets to help you develop insight and enhance existing coping strategies.
The CCC provides substance abuse assessment and education for the Corp of cadets. Each assessment is individualized and based on cadet's needs.

VMI has a strict zero-tolerance policy regarding alcohol. Cadet's who receive a penalty for alcohol use are required to meet with a counselor for education and assessment.
FREE ONLINE ASSESSMENT
The CCC offers online self-assessments that are free and anonymous; please contact our office, 540-464-7667, to schedule an appointment. These assessments are not diagnostic tools and should be used to help assess the presence and severity of symptoms.
VMI'S ALCOHOL AND DRUG TRAINING:
The Institute Alcohol and Other Drug Committee annually disseminates information to the Corp of Cadets, faculty, and staff in regards to substance use and abuse. The notification includes the following: standards of conduct, possible legal sanctions, and penalties, health risks associated with AOD abuse, AOD programs available to Cadets, staff, and faculty, and disciplinary sanctions for violations of the standards of conduct.
We encourage cadets to strive for balance and well-being through the use of our various wellness services.
Heart Rate Variability / Heart Rhythm Coherence Biofeedback Training
Heart rhythm feedback training, or heart rhythm coherence biofeedback, helps cadets to learn to self-generate states of sustained positive emotions and increased physiological coherence, thereby reducing stress and improving health, emotional wellbeing, and performance. The CCC has multiple computer programs that provide biofeedback of heart rate variability/coherence: HeartMath's emWave® Pro.
HeartMath's programs have been applied to the treatment of stress and anxiety, Post Traumatic Stress Disorder, Attention Deficit/Hyperactivity Disorder, depression, and fatigue and are used to improve academic and sports performance.
Light Therapy
Light therapy involves daily, scheduled exposure to intense levels of artificial light and is used to regulate seasonal mood swings, improve sleep patterns, and enhance feelings of well-being. Not only is light therapy beneficial for seasonal affective disorder, but also for the treatment of chronic non-seasonal depression. The light therapy box is recommended for use in intervals of 20 to 30 minutes which compares to the level of exposure an individual would receive on a walk outside on a sunny day. During light therapy, cadets can read, listen to music, practice mindfulness, work on a computer, or simply relax. Light therapy is not intended for use by everyone; cadets with symptoms of depression, bipolar disorder, currently on prescription medications, a history of eye conditions, should speak with a physician prior to beginning light therapy.
Resource Library
Various resource materials and self-help books are available for loan at the CCC. You are invited to come explore the resource library and pick out materials of interest.
Medical Leaves and Medical Furloughs are coordinated through the VMI Health Center. A Medical Leave or Medical Furlough is recommended when a cadet's health or mental health condition significantly impairs his or her own ability to function successfully or safely as a cadet.
It is expected that the time a cadet takes away from VMI is used for treatment and recovery. The VMI Health Center provides each cadet with specific expectations for treatment while on leave or furlough.
Questions about medical leave and medical furlough should be directed to the VMI Health Center, 540-464-7218..
The Center for Cadet Counseling will refer for psychiatric services as needed. Often, this includes a referral to a local psychiatrist; however, we can help you connect with psychiatric providers outside of the Lexington community as well. Cadets who are interested in receiving psychiatric services exclusively will be provided with referral information.