Assistant Professor of History Receives Award for Dissertation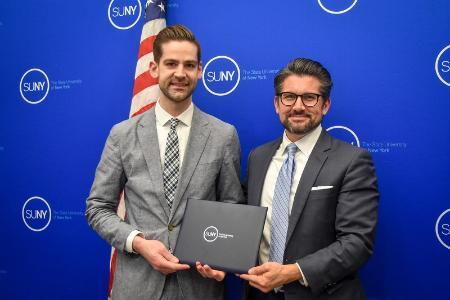 LEXINGTON, Va., November 20, 2021—Maj. Jonathan Jones, assistant professor of history, recently received two awards for his dissertation, "Opium Slavery: Veterans and Addiction in the American Civil War Era."

In early November, Jones was presented the inaugural Chancellor Distinguished Ph.D. Graduate Dissertation Award in Albany, New York. This recognition was given to one Ph.D. dissertation defended in 2020 at one of SUNY's (State University of New York) eleven doctorate granting campuses, including his alma mater Binghamton University, and carries a cash prize and additional professional development opportunities from SUNY. Jones' dissertation was the only one focused on humanities to advance to the finalist pool in the very STEM-heavy field.

Days after being presented that award, Jones learned his dissertation also received the 2021 Anne Bailey Dissertation Prize of the Society of Civil War Historians for best dissertation in Civil War History during the past calendar year.
Eric Moore
Communications & Marketing
VIRGINIA MILITARY INSTITUTE