Two Hours of Business on $5 Investment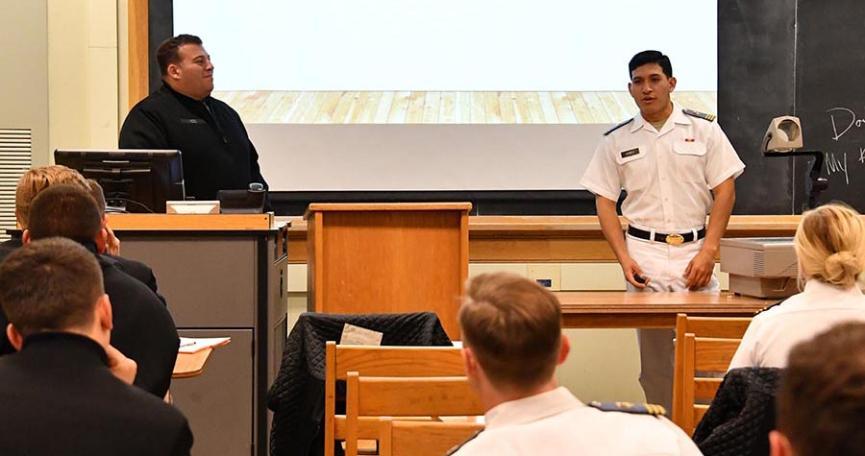 LEXINGTON, Va., Dec. 16, 2016 -- It's a Tuesday night at 7 p.m. You've just been given $5 and instructions to start and run a business for two hours. Your goal is to make as much money as possible. Can you do it?
That's the situation cadets in Maj. Dekuwmini Mornah's entrepreneurship class found themselves in this fall, as Mornah gave them the assignment, "the two-hour entrepreneur."
"I gave this assignment to my students to push their creativity," said Mornah, who noted that their persistence would also be challenged. Now in his fifth academic year teaching at VMI, Mornah was well aware that VMI's rules and regulations would make it hard for cadets to run businesses, but he decided to try the assignment anyway after meeting up with a group of 4th Class cadets in Carroll Hall one evening.
"Guys, it's five minutes to formation!" Mornah told the cadets. They responded by telling him that they would leave in just a moment, but they'd already learned that being early for formation increased their odds of being disciplined for minor deficiencies. Being late for formation would likewise incur penalties. They'd gleaned from past experience that it was best to show up just on time, with only seconds to spare.
"These guys are very creative," said Mornah. "They migrate and navigate around all of these rules. I think my students can be that creative if you push them out of the boundaries and paradigms within which they were raised."
Cadets in Mornah's class came up with some unique ideas for businesses, many of which included selling food. One group of cadets picked up food from local restaurants and delivered it to hungry cadets as they returned from fall field training exercises, while another sold concessions at the powerlifting state meet, held Nov. 5.
Another group identified a favorite treat of many cadets – milkshakes from a local restaurant – and decided to deliver them to barracks. "We were trying to figure out some type of product, and we couldn't really come up with anything, so we began to think of a service," explained Sebastian Chavez '17, who ran the milkshake business with Anthony Izzo '17.
For Chavez and Izzo, deciding on a food delivery service was easy, but deciding what kind of food to deliver was not. At first, both tacos and milkshakes seemed equally likely, but further research revealed that tacos have many options, such as hard shell and soft shell, that would make it hard to fill orders correctly, not to mention the wide variety of taco toppings. Milkshakes worked much better, Chavez explained, because all that's necessary is to write each cadet's name on the outside of the cup.
Chavez, who plans to earn a master of business administration degree down the road, said that he'd really enjoyed the assignment so far. "I very much like the idea of having to come up with something on your feet and, given the constraint of only having a small amount of money, trying to come up with something that would be profitable," he commented.
"You really have to think outside the box, especially for the kind of school we go to."
Mornah found himself having to think outside of the box as well as he attempted to design the assignment without running afoul of state regulations. He quickly found out that cadets could not keep any money they earned, so a decision was made to donate the proceeds from the two-hour entrepreneur project to cadet-run clubs.
The assignment wasn't really about the money, anyway. Mornah explained that the start-up funding was on the level of pocket change for a reason. "The essence of the assignment is them knowing that not having money should not be a limitation to starting a business."
-Mary Price
-VMI-