TAPS - Gen. Griffith, Former BOV Member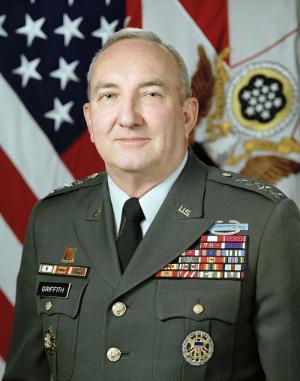 LEXINGTON, Va., July 24, 2018—The President of the Virginia Military Institute Board of Visitors and the Superintendent regret to inform the VMI community of the death July 18 of retired Army General Ronald H. Griffith, a former member of the Board of Visitors.
A native of Lafayette, Georgia, and a graduate of the University of Georgia, General Griffith served on the VMI Board of Visitors for two four-year terms from 2004 to 2012.
"When discussing key issues to come before the Board, the President and the Superintendent frequently called upon General Griffith for his wisdom and most often the sage advice he imparted was of particular relevance in seeking resolution," said a resolution presented to General Griffith on his retirement from the board. "He was a proponent of VMI seeking ways to ensure more intercollegiate athletes have commissioning opportunities as he stressed the correlation of leadership and characteristics needed to succeed as an athlete to those of military officers."
General Griffith rose from the rank of private to four-star general during a 37-year career in the U.S. Army that included commanding the 1st Armored Division in Operation Desert Storm and culminating with the position of Vice Chief of Staff. After his military career he served as Executive Vice-President of MPRI and the L-3 Communications Services Group.
General Griffith was one of the principal architects of new techniques and methodologies for building democratic governance, military and law enforcement institutions around the world. He was repeatedly called upon by the U.S. government to support national security objectives in some of the most hostile environments of the first decade of the 21st century.
Survivors include his wife, Dr. Hurdis M. Griffith, dean emeritus of the Rutgers University College of Nursing, two daughters, Laura Thompson and Leigh Ann (Douglas) Todd; siblings Jane and Larry (Carol) Griffith; and five grandchildren.
Visitation will be held from 6 to 9 p.m. on July 27 at Demaine Funeral Home, 520 South Washington St., Alexandria, Virginia. The memorial service will be held at 10 a.m. on July 28 at Fort Myer Memorial Chapel, 101 McNair Rd., Fort Myer, Virginia.
In lieu of flowers, gifts can be made to the National Museum of the United States Army, online at Armyhistory.org, or mailed to the Army Historical Foundation, 2425 Wilson Blvd., Arlington, Virginia.
-VMI-