Marsh Remembered for Long, Superb Service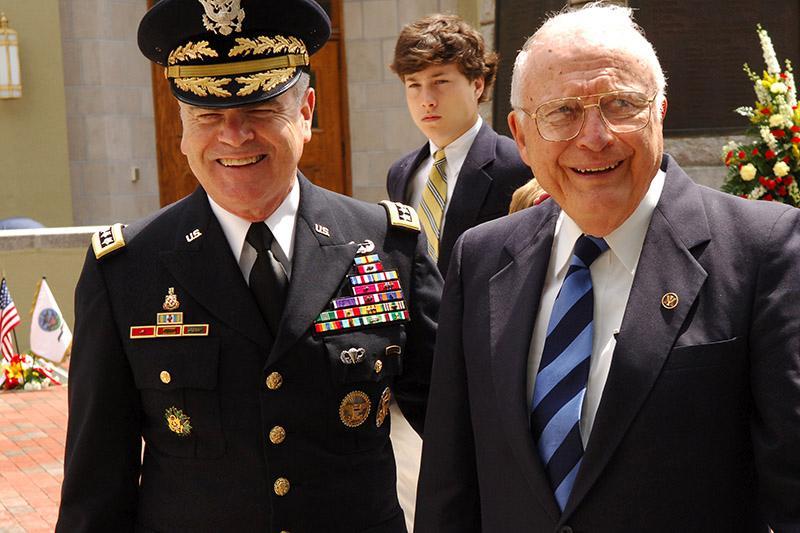 LEXINGTON, Va., Feb. 6, 2019—John O. Marsh Jr., former Secretary of the Army for eight years in the administrations of Ronald Reagan and George H.W. Bush—his tenure ending just months before the fall of the Berlin Wall—died Monday at the age of 92.
"Secretary Marsh was a true friend of the Virginia Military Institute," said Gen. J.H. Binford Peay III '62, superintendent. "He became enchanted by the VMI story during boyhood visits to the Bushong Farm and in the years after devoted much of his time and wisdom to the Institute. He was a grand leader and will be missed."
The Bushong Farm and fields are the centerpiece of the New Market State Historical Park, the scene of the 1864 Battle of New Market in which the VMI Corps of Cadets turned the tide of battle and marched into history. VMI owns and operates the park, which is also the site of the Virginia Museum of the Civil War.
Secretary Marsh served on the VMI Board of Visitors from 1976 to 1980, during which time he guided major developments at the battlefield park. From 1998 to 1999, he served as a visiting professor of ethics at the Institute. He was a frequent speaker to cadets, including many times when he addressed Rats as they took their cadet oaths near the Bushong House.
He was a recipient of the VMI New Market Medal, presented for exemplary and distinguished leadership to the nation, as well as the Harry F. Byrd Jr. '35 Public Service award presented on behalf of the Byrd family by the Institute. These awards recognized his service in World War II, in the Army National Guard after the war, as a U.S. Congressman from 1963 to 1971, and the numerous posts he held for President Gerald Ford, President Ronald Reagan, and Vice President Dick Cheney.
Secretary Marsh will be buried near the museum building at the New Market Battlefield, following a service in the Virginia Room of the Hall of Valor at 1:30 p.m., Feb. 15. In lieu of flowers, the family requests that gifts be made to the VMI Foundation in support of the Virginia Military Institute (P.O. Box 932, Lexington, VA 24450 or by phone at 800-444-1839).
-VMI-