TAPS—Col. Thomas S. Baur '75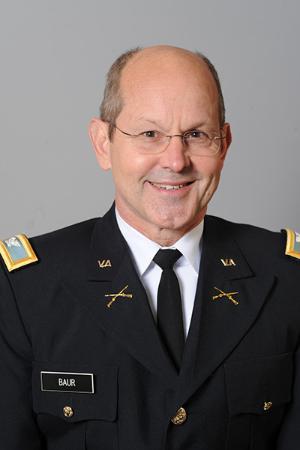 Update: A memorial service for Col. Thomas S. Baur is scheduled for 11 a.m. on Saturday, Sept. 8, in Jackson Memorial Hall.
LEXINGTON, Va., Aug. 23, 2018—Col. Thomas S. Baur '75, professor emeritus of biology, died in a traffic accident in Rockbridge County today at the age of 64. A native of Huntington, West Virginia, he served on active duty and in the Army Reserve for a total of eight years. He earned a master's degree from West Virginia University and a doctorate from Purdue University, both in exercise physiology.
Baur joined the VMI Department of Biology in 1988, teaching a myriad of courses and developed an honors symposium. He was a recipient of VMI's Thomas Jefferson Teaching Award, the Institute's Distinguished Teaching Award, was named to Who's Who Among America's Teachers, and was awarded the VMI Meritorious Service Medal. He continued to serve the Institute after he retired from full-time teaching in 2013.
In addition to his teaching duties, Baur served the Institute on numerous faculty and Institute committees, serving at times as officer-in-charge of the barracks, as director of the Summer Tutorial Program, and as head of the Department of Biology. He directed the Summer Transition Program, was adviser to the Class of 2005, was the faculty chairman of athletics, and served twice as the Superintendent's Representative to the Honor Court. He was also involved in numerous community activities.
Among his survivors are his wife, Judy, their two sons, Daniel and Stephen, and their families. Funeral arrangements are pending.
—VMI—