Board of Visitors Honors Gen. J.H. Binford Peay III '62
LEXINGTON, Va., April 29, 2022—The Virginia Military Institute Board of Visitors has bestowed upon its former superintendent, Gen. J.H. Binford Peay III '62, the title Superintendent Emeritus and will name the upcoming leadership development building for VMI's 14th superintendent. VMI's current superintendent, Maj. Gen. Cedric T. Wins '85, announced the recognition at the Class of 1962 reunion dinner Tuesday, April 26, 2022.
As announced by Tom Watjen '76, VMI Board of Visitors president, on Jan. 29, 2022, the Virginia Military Institute and the VMI Alumni Agencies formed a committee to finalize plans to honor and recognize the long tenure of Peay as VMI's superintendent. The committee was chaired by Bill Boland '73, former VMI Board of Visitors president, and consisted of representatives from the Institute, Alumni Agencies, and the Board of Visitors, past and present.
VMI is in the planning and design phase of a new building to be located adjacent to Marshall Hall which currently houses the Center for Leadership and Ethics, a key initiative of the strategic plan developed by Peay. The building will be known as Peay Hall and will house additional space for VMI's leadership programs as well as the VMI museum. The dining room within the new building will be named for Pamela Peay, Gen. Peay's wife and a tireless advocate for VMI. As plans for the new building are finalized, the recognition committee recommended a significant commemoration to Gen. Peay's service be incorporated into the overall design of the building.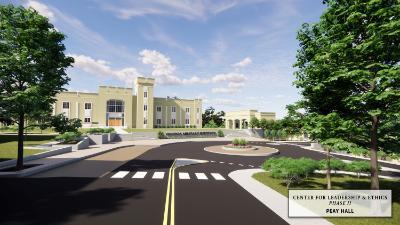 The Institute celebrated many successes during Peay's 17 years as superintendent, including improved academic and co-curricular programs, major renovations of many buildings, and the construction of Third Barracks, Marshall Hall, and the Corps Physical Training Facility. During his tenure, the former superintendent was dedicated to an environment of excellence where cadets were provided countless opportunities to develop traits of successful leadership—honor, respect, civility, self-discipline, and professionalism.
Peay, a civil engineering major and a quarterback on the Keydet football team while a cadet, served in the U.S. Army for 35 years after commissioning from VMI and retired at the rank of four-star general, a rank that's been achieved by only seven individuals commissioning out of an ROTC program at a senior military college. He was the Institute's third-longest serving superintendent after Maj. Gen. Francis H. Smith and Brig. Gen. Scott Shipp, VMI Class of 1859.
Gen. and Mrs. Peay will be the guests of honor at VMI's Founders Day celebration on Nov. 11, 2022. The Peay family will take review of the Founders Day parade and Gen. Peay's official portrait will be unveiled as it is placed among other superintendents' portraits in the Turman Room of Preston Library.
---
-VMI-