Engineering in Rome, Italy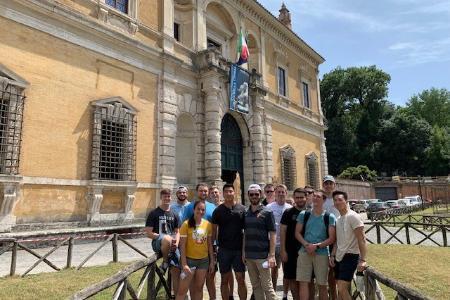 LEXINGTON, Va., June 22, 2022—The VMI engineering faculty-led summer study abroad program, designed by Col. Jon-Michael Hardin, professor and head of the mechanical engineering department, with the assistance of Patricia Hardin, assistant director of international programs, has been a constant since 2011. It was developed for and executed in Berlin, Germany. One of the primary goals of this program was to give engineering cadets, who don't often get the chance to study abroad due to their pre-requisite driven curriculum, the opportunity to develop cultural competency skills and learn to live and work in a multi-cultural, multi-national society. In addition to cadets taking a more traditional engineering course called Dynamics, Col. Hardin developed a class called Global Engineering to give cadets the opportunity to learn about German technology, culture, and traditions. The class consists of lectures and site visits to German engineering companies and engineering-related sites, including the BMW motorcycle factory and Siemens.
Unfortunately, COVID-19 halted this value-added opportunity for engineering cadets in 2020. The Hardins began planning for the summer 2021 program only to learn from German hosts (Studienforum) that a summer study abroad program in 2021 would also not be feasible.
Another summer study abroad opportunity came along when Col. Hardin received an e-mail request from the dean at John Cabot University (JCU) in Rome, Italy to teach at JCU during the summer of 2021. This is a private American liberal-arts focused university in Rome, accredited by the Commission on Higher Education of the Middle States Association of Colleges and Schools. While students from all over the world can attend for four years, JCU also offers foundational engineering courses to students from across the globe during the summer.
Col. Hardin looked at the line-up of engineering courses slated to be offered by JCU in summer 2021 and realized that he could contribute the same classes, Dynamics and Global Engineering, that he had taught in Germany. After several Zoom and Teams meetings with the dean at JCU, it was clear that Col. Hardin would be going to Rome in summer 2021.
Col. Hardin offered the opportunity to VMI cadets to travel to Rome and take Dynamics and Global Engineering. Thus, a new summer study abroad program for engineering cadets was created. The new Engineering in Rome summer study abroad program hosted a group of 14 cadets in summer 2021. While it was quite a challenge to navigate the COVID-19 protocols that were in place, from taking only COVID-19 tested flights to avoid a 10-14 day quarantine, to ensuring the team had the correct COVID-19 tests and results before the flight, all 14 cadets, Col. and Mrs. Hardin made it to Rome!
Since Col. Hardin had to start designing the Global Engineering class from scratch, cadets were instrumental in shaping this class, and they stepped up to the plate. Cadets met Roberto Girlanda, an electrical engineer, who at the time worked for a company called Brain Technologies as their aerospace, defense and big science business manager. Mrs. Hardin worked with Girlanda and JCU to set up a couple of lectures. Roberto gave discussing the educational system in Italy and his work as an Italian engineer.
Another German faculty member, Dr. Jens Köhler, from JCU, who specializes in ancient technologies, provided a lecture about the history of Roman aqueducts. Following the lecture, Köhler led cadets and faculty program directors on an experiential learning excursion to Aqueduct Park in Rome to learn about the history of aqueducts.
Other engineering-specific lectures and site visits included a visit to the Da Vinci Museum, to the Pantheon to discuss the world's largest freestanding dome, to the Colosseum to discuss the materials used in building this structure, while also discussing the concept of recycling ancient construction materials like columns and keystones used in modern construction.
Cadets also went on many cultural excursions such as visits to the Catacombs, Sistine Chapel, and Baths of Caracalla.
One of the highlights of the Global Engineering class is the scavenger hunt project. Cadets are placed in groups of 4 or 5 and receive a list with several sites around Rome that they have to research and then visit. For each site on their list, cadets have to provide history of the site, describe the way and the means of transportation they took, and pose for a photo at the site. The best group receives credit points in the Global Engineering course and wins a small Rome or Italy-related item. The scavenger hunt provides cadets with a guide to see additional essential sites in Rome yet allows them to actively take part in the discovery and the learning process.
James Masini, '23, Cameron Boxley '23 and Christopher Hurt '23 had to find out more about the Bocca della Verità (the Mouth of Truth). They wrote, "Our final site was the Bocca della Verità. The Bocca della Verità, or the Mouth of Truth, is a mask made of marble. While its original purpose is unknown, it could've possibly been a drain cover or even been used by merchants to drain the blood of sacrificed cattle. Today it is popular because of its appearance in the film Roman Holiday."
Another group of cadets, Conner Taylor '23, Nathan Baier '23, Ian Cameron '23, Colby Tennyson '23 and Heather Crum '23, was tasked with going to the Piazza dei Cavalieri di Malta on Aventine Hill to describe the main building standing in the piazza (square). They were asked to provide historical information regarding the significance of the site and to look through the keyhole and describe what they saw. They describe their findings, "The property originally belonged to a nobleman that ruled Rome from 932 to 954. It was then a Benedictine monastery in the 10th century. It then belonged to the Knights Templar. After they fell, the Hospitallers, now known as the Knights of Malta, acquired it. They originated in the 11th century and are now they the oldest surviving chivalric order in the world.
The cadets continued, "None of us had any idea what we were going to be seeing when we arrived. We were surprised to see a large line going to the keyhole. Without planning it, we arrived in time to see the sunset behind St Peter's Basilica. The pictures don't really do it justice and was a very different attraction I wouldn't have thought about without this scavenger hunt. Apparently, it's not 100% known if the view from the keyhole was intentional. Between the path and the garden framing it, it seems obvious that the view was at least intentional from beyond the door."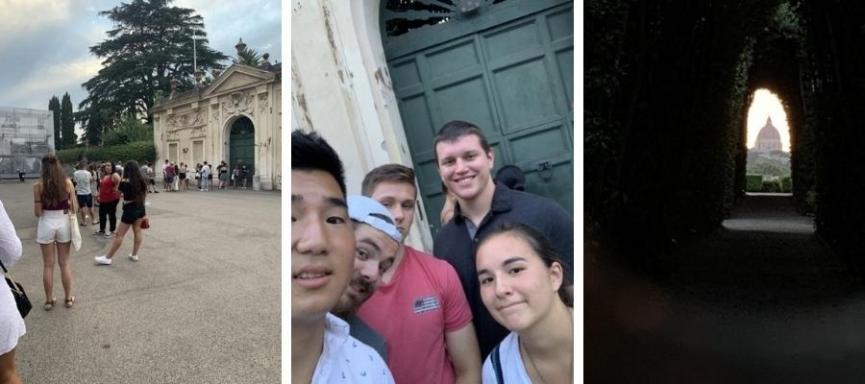 (Left: standing in line to look through the keyhole of the green door; Middle: front to back: cadets Conner Taylor, Nathan Baier, Ian Cameron, Colby Tennyson and Heather Crum; Right: what you see when looking through the keyhole: St. Peter's Basilica in Rome; Summer 2021)
This year's program in Rome will begin on June 30 and will be VMI's second year in Italy. This past year, Col. and Mrs. Hardin have continued to develop the Rome engineering program, striking an official agreement between John Cabot University and VMI which provides for a more robust support and infrastructure in Rome through JCU and gives each cadet on the program a small scholarship allowing the program price to remain reasonable.
This year, part of the Global Engineering class will be a visit the NATO Defense College, TAUMAT, a company that specializes in high precision mechanical components and AVIO, a company that focuses on solid-propellant motors for space and tactical propulsion. AVIO is the prime contractor for the new European launcher Vega and sub-contractor for the Ariane program, both financed by the European Space Agency (ESA)
Twenty cadets will be participating in this summer's program.
UPDATE: Cadets participating in the VMI Engineering in Rome study abroad program during summer 2022 visited the NATO Defense College (NDC). Led by Col. Jon-Michael Hardin, Ph.D., head of the VMI Mechanical Engineering Department, the VMI delegation received a comprehensive briefing on the history, structure, and main activities of the College, followed by a Q&A session. Learn more about their experience.
Ms. Patricia Hardin
Assistant Director, International Programs
VIRGINIA MILITARY INSTITUTE