VMI Cadet Researches Stress in Rats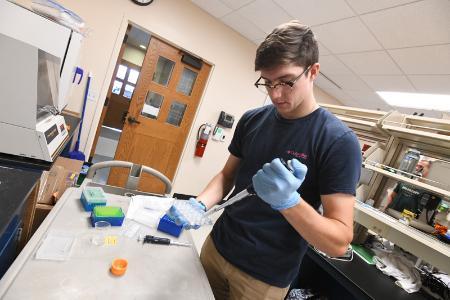 LEXINGTON, Va., July 29, 2022—Life is full of stress. Everyone experiences stress in some form. It may result from being unemployed, or working long hours, juggling family responsibilities, or worrying about finances or health issues. It may be induced by your living environment. Stress can be acute, chronic, or traumatic. Physical signs of stress are difficulty in breathing, panic attacks, blurred vision, sleep deprivation, fatigue, muscle aches, headaches, chest pains, high blood pressure, indigestion or heartburn, weight gain or loss, and heart disease. Noah Campbell '24, a biology major at Virginia Military Institute is researching stress in his Summer Undergraduate Research Institute (SURI) project titled, "The Effects of Environment on Corticosterone Production in Rattus Norvegicus."
Stress Hormone
Corticosterone is a hormone produced by the adrenal glands which sit on top of the kidneys. Corticosterone release is controlled by the hypothalamic-pituitary-adrenal axis (the body's central stress response system) and keeps the body on "high alert" in times of stress. It elicits the "fight or flight response" when one senses fear. Stress levels can be determined by checking the amount of corticosterone in a body.
City Rat vs Country Rat
Is it more stressful to live in the city or in the country? The town mouse and the city mouse in one of Aesop's Fables teaches that city dwellers may have easy access to a variety of food, but must deal with noise and danger, whereas a country dweller may have to toil for their sustenance, but they enjoy a serene existence. The moral of the story sounds valid, but is it accurate in real rats?
Collaboration With UR
Campbell's research, in partnership with the University of Richmond (UR) in Richmond, Virginia, and in collaboration with other cadet research, explores the relationship between corticosterone and environment in the brown rat collected in the local countryside of Rockbridge County. Corticosterone levels in the rats are measured from fecal and blood samples. Organs involved in immune response, such as the adrenal glands and the spleen will be measured. These values will then be compared to a study conducted at UR, which studied stress in brown rats taken from an urban setting, as well as lab reared rats, to draw comparisons to environmental location and stress.
Advisors for the research, Maj. Mary Beth Manjerovic and Maj. Molly Kent, both assistant professors in biology at VMI, stated that having cadets conduct research over the summer is a great experience. "This project integrates fieldwork and laboratory-based techniques giving cadets a well-rounded research experience that highlights how questions can be addressed from multiple angles," said Manjerovic.
Kent added, "The current project allows Noah and his team to continue the work started at UR, while using a VMI approach. I have been incredibly impressed with how hard the cadets have worked this summer and the work ethic they have shown in the lab."
Research Continues
Campbell's research is part of an ongoing long-term project involving both VMI cadets as well as students from UR. Rats are subjects in additional experiments on learned behavior such as anticipating rewards for certain behaviors and even driving a small vehicle.
Campbell graduated from Rockbridge County High School in Lexington, Virginia. He is the son of David Campbell and Sara Cline of Lexington. He is a VMI EMT and plans to attend physician's associate (PA) school after graduating.
Marianne Hause
VMI Photo by Kelly Nye
Communications & Marketing
VIRGINIA MILITARY INSTITUTE