Cyber Captains
CADET INVOLVEMENT
Cadets in the Cyber Captain Initiative (CCI) serve for 10 hours a week during the academic year, and 10-20 hours a week during summer as teaching and technical assistants to help faculty, staff, and cadets on cybersecurity issues.
Responsibilities may include, but are not limited to:
- Support IT in configuring, maintaining, and testing the cybersecurity laboratories.
- Tutor fellow cadets in designated cybersecurity courses and capstone projects.
- Assist faculty in preparing cybersecurity experiments and projects.
- Assist in teaching summer workshops for 8-12 grades.
- Assist in VMI Open House activities.
Cadets in CCI must:
- Enroll in the cybersecurity minor.
- Participate in an internship program.
- Actively participate in the Cyber Club.
- Receive designated professional certifications.
---
MEMBERSHIP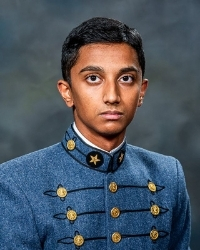 SIBI BAGAVATHY, 2023
Cadet Bagavathy is an Economics/Business major with a Cybersecurity minor. He is an Assistant Prosecutor on the VMI Honor Court and a photographer for the Yearbook club. He is also a member on the S2 academic staff where he serves as a company representative to mentor first-year cadets. In his free time, he enjoys road biking and watching Formula-one.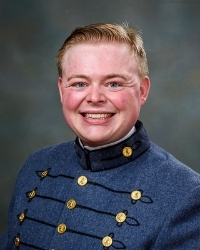 JOHN BARKER, 2023
Cadet Barker is a major with a Computer Engineering and cybersecurity minor. Is also applying for the National Security minor. He loves learning new things and meeting new people. He enjoys reading and talking to others. He is currently the Cyber Captain team lead and has loved every second of it. He is also a part of the Cyber Club and the Cyber Competition group. He is also on the committee of 2023. He enjoys playing tennis and watching movies, and is a firm believer that what you help others do reflects more on you than what you yourself do.
JORDAN BECK, 2023
Cadet Beck is a major with a minor in cybersecurity. She has a general understanding of Java and Python, and was involved in STARBASE academy as a mentor.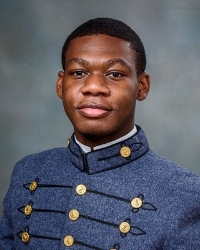 THOMAS CHAMPION, 2023
Cadet Champion is a major and a cybersecurity minor. He is interested in learning all thing Cyber on the offensive side, defensive side, and managerial side.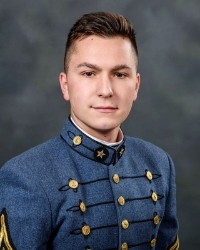 NATE COLEY, 2022
Cadet Nate Coley is a Computer and Information Science major with a minor in cybersecurity from Richmond, VA.He is interested in cyber defense and management, as well as artificial intelligence.Cadet Coley has multiple years of experience with Java and has a general understanding of Linux, Python, and SQL.Nate has held leadership positions within the regimental system at VMI, and plans to use valuable leadership experience gained at VMI within the workplace.Upon graduating in Spring of 2022, Nate plans to pursue a job in the cybersecurity field.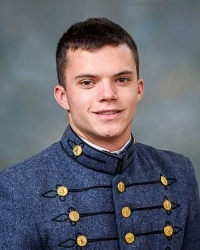 COLE CORSON, 2023
Cadet Corson is a major with a minor in cybersecurity from Williamsburg, VA. He is an Cadet and is interested in branching Cyber.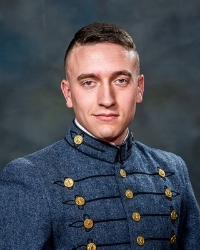 ZACHARY FARR, 2022
Cadet Farr is a Computer Science major and a Cybersecurity minor.He is interested in a career in the United States Space Force or Air Force upon graduation.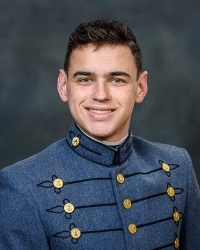 JOE GILMAN, 2023
Cadet Gilman is a major, cybersecurity minor. He enjoys outdoor activities such as hiking, playing team sports, and working as a team member on projects.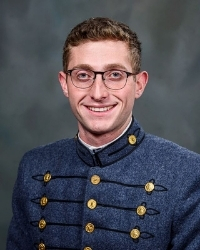 NOAH GOLDSMITH, 2022
Cadet Goldsmith is a 2nd Class Computer and Information Science major pursuing a minor in cybersecurity. He has been involved with the VMI Regimental system as a member of the S6 Staff since 3rdClass year. Goldsmith is part of Army ROTC at VMI and will be commissioned upon graduation in May 2022. He hopes to pursue a career in Army Cyber or Army Intelligence. He is specifically interested in the offensive side of cybersecurity and his long-term goal is to work for a three-letter agency.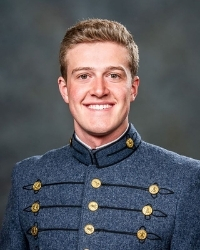 CONNOR HOLLAND, 2023
Cadet Holland is a major with a minor in cybersecurity. He is also a member of the Cyber Club at VMI. He plans on commissioning into the with hopes of being a Cyberspace Operations Officer after the completion of Cyber School.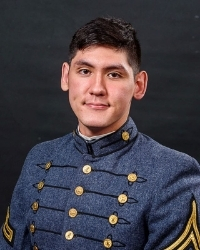 COREY JONES, 2022
Cadet Jones is a Major + cybersecurity minor. He is Interested in everything technology and computer related. He is also Involved in the Cyber club and .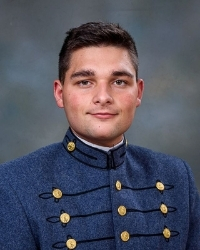 JOSEPH KOLLY, 2023
Cadet Kolly is a third class cadet studying Computer Science with a minor in cybersecurity. He is very interested in AI and autonomous vehicles. His interests for these topics grew this summer when he wrote a research paper with his professor Dr. Zhang on the effects of the number of cameras and camera FOV on the training and usage of autonomous cars. In his free time, he likes to fish and spend time outdoors.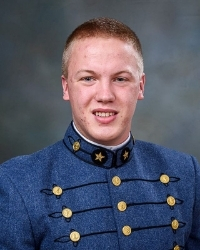 JOSEPH LIEBER, 2023
Cadet Lieber is an major with a cybersecurity minor. He does a lot of 3-D design, fabrication with metal and wood, and projects with protoboards such as Arduino's and raspberry pi's. He enjoys learning about technology and new ways to use it. He is also commissioning into the United States upon graduating VMI.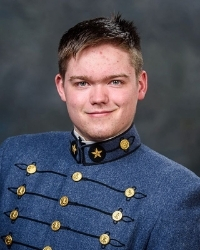 JONATHAN SMITH, 2023
Cadet Smith is an major, with a cybersecurity minor, and although he has yet to declare the applied mathematics minor he plans on doing that soon as well. He is also a 4-year army contract and plans on joining the army cyber core after graduation. He enjoys being outdoors playing sports and having fun with friends. He has always believed if you set high goals for yourself and strive to achieve them by working hard and perseverance, you can achieve anything.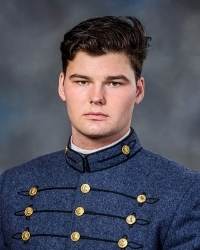 HAAS TEHAN, 2022
Cadet Tehan is a computer science major with a minor in cybersecurity. He loves the outdoors, language, History, working out, and all things computers. He is very interested in cybersecurity and computer hardware.